MY WORK WITH MORRISSEAU
RITCHIE SINCLAIR (Stardreamer) / January 2nd 1957, Thunder Bay, Scottish Lineage.
Apprenticed with Norval Morrisseau, 1979-1985, founding member of the Thunderbird School of Shamanistic Art.
In 1979 Norval Morrisseau chose me to be his artistic apprentice. Commencing in 1979, I lived and worked with him at numerous locations over the course of numerous years. As his protégé, I mixed his paints, stretched his canvasses, painted backgrounds for him, observed his work and his methods, and was trained and tutored by him in art. I am recognized as his chosen protégé and as a teacher, leader and proponent of Morrisseau's, Thunderbird School of shamanistic arts.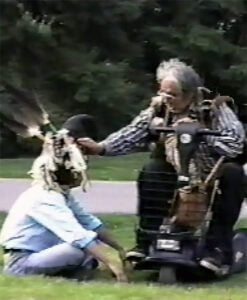 On Sept 28, 1997, I was publicly initiated by Norval Morrisseau in a sacred Beardance Ceremony which took place at the McMichael Canadian Collection in Kleinberg, Ontario. Guiding proceedings in his role as the Grand Shaman of the Midewiwan, or Grand Medicine Society, of the Anishinaabe people, Morrisseau officially passed on responsibility to me to carry on his inspirational artistic movement. I have done my best to meet the challenge.
Norval and I painted together whenever possible over the course of two decades and we remained close friends until he passed away in 2007.  In 2008 I launched a comprehensive website at Morrisseau.com that blew the whistle on a country-wide forgery syndicate producing thousands of fake Norval Morrisseau paintings. I defended my assertions in multiple civil court cases filed to silence me. Recently, There Are No Fakes (2019), an award-winning feature documentary, has been released that exposes this crime along with a precedent setting appeals court ruling.
To this end I continue to operate a visual archive at www.Morrisseau.com and a legal site at www.norvalmorrisseaulegal.com dedicated to educating the public about the true legacy of my friend. If you have an inquiry about a Morrisseau-related issue or a Morrisseau work of art that you would like an opinion on contact me